The Founder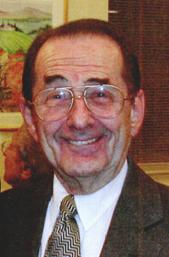 Having served my clients for over 60 years, in good times and bad, as their financial & retirement plan advisor, I feel well qualified to serve you.

I currently serve on the Board of Health Advocates for Older People Inc., and the North American Advisory Committee for the Austrian Holocaust Survivor Emergency Assistance Program (AHSEAP).

I was head of the Task Force of the Society for Financial Counseling and the International Association of Financial Planners, was faculty at Yeshiva University, teaching financial and retirement planning in their Adult Education Program, was on the Financial Management Advisory Board of Iona College, held business and personal investment seminars at Mercy College, the Scarsdale New York Adult School, the School of Visual Arts, and The Atrium Club. I was advisor to the London Times (NY), served on the Board of B'nai B'rith and was on its "Speaker's Committee" for financial matters, am listed in "Who's Who in Finance & Industry" and made guest appearances on CBS, WOR and CBC. I was published in "Money", "New York Magazine", "Business Week", "Insurance Advocate", "Kiplinger's Washington Letter", "Financial World", "Doctor's Finances", "Harlem Today", and others, and am publisher of "The Data Locator", the "Budget Blueprint" and also a wallet-sized "Health Care Proxy". I created a Legacy Program for UJA-Federation and also served on their "Lifeline Committee". I was Treasurer for the State of Israel Bond's Life Insurance Division, and was elected Chairman of the World Trade Club's "Manpower Committee" of the Commerce & Industry Association of New York. I am a 30 percent disabled Korean War Veteran and a child survivor of the Holocaust. I served as Senior Vice-Commander of American Legion Post No. 1870 for 15 years, and was on the Executive Committee of the American Legion 9-11 Memorial Post 2001 for 5 years. I was responsible for the Educational Law of the State of New York being amended so that Honorably Discharged Servicemen and Women could attend and monitor New York Vocational Schools and/or College classes, space permitting, without charge, so that they could reorient themselves into civilian life, educationally and vocationally.

I was the Honoree of Fleet Week's Commanding Officer's Reception Dinner at New York City's Water Club on June 1, 2004. Mayor Michael R. Bloomberg invited me to his Breakfast Reception in honor of Veteran's Day at Gracie Mansion on November 11, 2005 and 2008. I was honored by The Honorable William C. Thompson, Jr., Comptroller of the City of New York, on November 29, 2007 in Council Chambers of New York City Hall for my invaluable contributions to the Veterans community and New York City at large.
For enjoyment, I play trumpet and piano, and have composed and orchestrated. I played lead trumpet for New York's Jazz Museum's Sunday Concerts and piano for the dinner hour at The Atrium Club. I also paint, sketch and make wooden children's toys. I have a daughter, Cynthia Tomasini and two granddaughters, Rommie and Nadia.

My office is at 40 Wall Street, 30th Floor, New York, NY 10005, and you can reach me at (212) 532-0100 for consultation.

Wolf A. Popper, Registered Representative, offering securities through JH Darbie & Co., Inc., Member FINRA, SIPC, MSRB and NFA, and insurance services through National Asset Development, Inc., Wolf A. Popper, and J Zamzok & Associates, Inc.